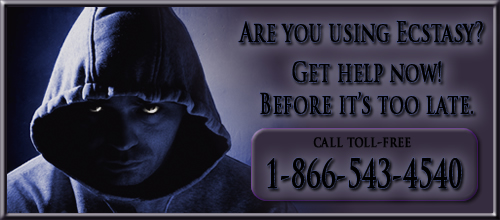 Teen Ecstasy Abuse
Teen ecstasy use is more common than some parents may realize. Ecstasy--an illegal drug often referred to as this decade's version of LSD; is, according to some of its users "the hottest drug going now." It's also one of the deadliest. While teen ecstasy abuse is most often associated with large open-to-the-public teen dance parties--or "raves"--federal officials say the drug also known as MDMA (and most commonly called "X" on the street) is so readily available that teens can easily buy it on the street or even on their school's campus.
A recent survey on teen ecstasy abuse conducted by the National Center on Addiction and Substance Abuse found that one in four questioned said they had a friend or class mate whom they knew had used ecstasy, and 17% said they knew more than one user.
Some common teen ecstasy abuse slang terms include:
"X"
B-bombs
Disco biscuit
Essence
Go
Hug Drug
Love drug
Scooby snacks
Sweeties
Wheels
Adding to the already existing dangerous potential of teen ecstasy abuse is the fact that increasingly other drugs altogether are being passed off as ecstasy. Additionally, ecstasy pills are sold heavily laced with other dangerous drugs such as PCP.
"When somebody tells me they've taken ecstasy these days, I have no idea what they've taken," says Dr. Grob, director of child and adolescent psychiatry at the Harbor-UCLA Medical Center in Torrance, California. Grob, who conducted the first Food and Drug Administration-approved study of MDMA's effects in the mid-90's, says the growing furor surrounding the illegal use and abuse of the drug has overshadowed its potential as a legitimate, professionally monitored psychiatric treatment for such ailments as posttraumatic stress disorder.
Despite evidence that ecstasy can kill, teen ecstasy abuse is still on the rise, according to the Department of Health and Human Services Monitoring the Future study. The study, which included self-reported data from a representative sample of 44,000 students in grades 8, 10, and 12 in more than 400 schools across the nation, tracks major trends in the use of illicit drugs such as LSD, cocaine, heroin, and marijuana. In addition, researchers gather information on the smoking habits of youth. "Use" is defined as having taken the drug at least once in the past year.
The University of Michigan's Institute of Research, which conducts the study during each academic year, found that in 2001, 3.5 percent of eighth graders, 6.2 percent of 10th graders, and 9.2 percent of 12th graders had taken ecstasy in the past year.
These teen ecstasy abuse numbers pose a striking contrast to data from 1998, when 1.8 percent of eighth graders and 3.3 and 3.6 percent of teens in 10th and 12th grades, respectively, used the drug. Although these percentages almost tripled between 1998 and 2000, the increase has been less drastic in the past year, according to study data.
Researchers postulate that perhaps the usage rates aren't growing as quickly because more teens are aware of the dangerous effects of the drug, which, according to research sponsored by the National Institute on Drug Abuse, can cause brain damage and even death.
Researchers asked 12th graders about their perceptions of risk for teen ecstasy abuse, and those who deemed ecstasy experimentation "a great risk"Â' jumped by 8 percent last year, from 38 percent in 2000 to 46 percent in 2001. Ecstasy was also easier to obtain in 2001 than in years past. While 40 percent of 12th graders said that they could get ecstasy "fairly"Â' or "very"Â' easily in 1999, 62 percent said the same in 2001.